IALT: reflect on how an elephant has lived with a bullet in his head!
An elephant in "Zimbabwe" has received medical treatment from a conservation group after being shot in the head by suspected poachers.It seems to be that the elephant was found by veterinarians from Aware Trust Zimbabwe which is in Mana Pools National Park. He is believed to have been living with the bullet in his head for around about three to six weeks. Pretty Boy, as he is nicknamed, is thought to have come into the park after being shot. A metal detector was used to scan the elephant's head. The team sedated him, took an X-ray and cleaned the wound but judged it safer to leave the bullet in place. If the shot had hit a few centimetres lower down it would have gone into his brain. But luckily he is safe and currently in good condition! Also fun fact and interesting face in this article the elephant is believed to be around 25 years old. Which means he is a 25 year old male elephant living with a bullet inside the area of his head, and brain nearly causing death!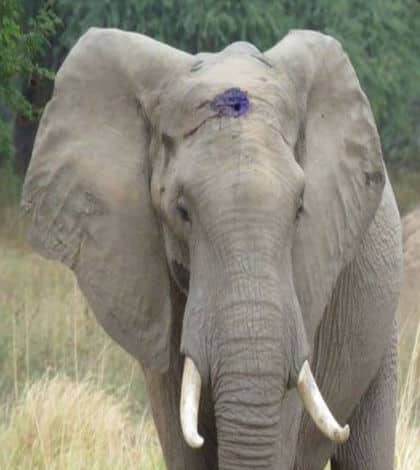 In my eyes the world is just becoming more cruel! People need to think about the consequences to their actions! This elephant could have been killed for doing nothing but being innocent. With coming this injury people need to realise that Nature's animals are one with us and this world. We are just as different as each other!
What are your thoughts on this article?
Please leave a comment below, and I'll get back to you ASAP!
Thanks for viewing, and I hope you've enjoyed reading!