IALT: find news articles talking about how new things are currently go VIRAL?!
A new viral topic is going out to the world which is known as the Watermelon craze. They say it's super easy all you need is a piece of watermelon, and also a person! By looking at the image provided it looks as if that you cut the watermelon into the shape of a dress, and by doing that you lift it up with a camera making it look like this...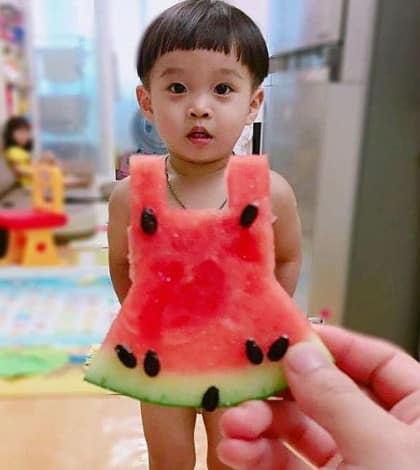 This photo is taking over Instagram! Cool right? But in taking this photo, your angles, and distance have to be just right or in other words perfect. They say once your camera is set up for the perfect photo shot, grab your random watermelon slice, your camera, and a friend to strike a pose!
Here are some more examples of Watermelon Crazes...
This Watermelon Craze has reached from kids at the age of 1-2, to the ages of 34-40! It's amazing how even though young ones create this the older generation still have it in them to participate and show some love and care for this century.
Do you have what it takes to try the Watermelon Craze?
My next step in learning is to try this out. Find my own personal difficulties, or weaknesses in doing this and work on them myself.
My biggest challenges was thinking about cutting the watermelon as I may try and attempt this challenge, or this new topic that seems to be going viral.
What are your thoughts?
Please leave a comment down below, and I'll get back to you on how your feedback, and feedforward affected me!
Thanks for viewing, viewers....