IALT: write about how a Texas lady gave birth to 4 identical twins!
A Texas mother has given birth to two sets of boys in Houston hospital which is 4 boys. Amazingly the chances of this happening are around one-in-70-million, so it makes this event very rare. The four brothers were delivered at 31 weeks to Tressa Montalvo. Mr and Mrs Montalvo had just hoped for one little boy or a sister for their 2 year old son, Memphis. But they were given a much bigger blessing, instead they got four boys. "We planned the pregnancy – I guess we just succeeded a little too much!" said Tressa Montalvo, as she talked with media after the birth. They say with naming the babies proved no trouble at all. "We tried to stick to the A-B-C-D theme when naming them," Tressa Montalvo said. "We didn't expect it, we were trying for just one and we were blessed with four." The boys have been named Ace, Blaine, Cash and Dylan. To add more interest to the story Manuel Montalvo, the father, said that would love to have a girl one day. So instead of getting what they wanted which was 1 girl or a boy they were given more 4 boys!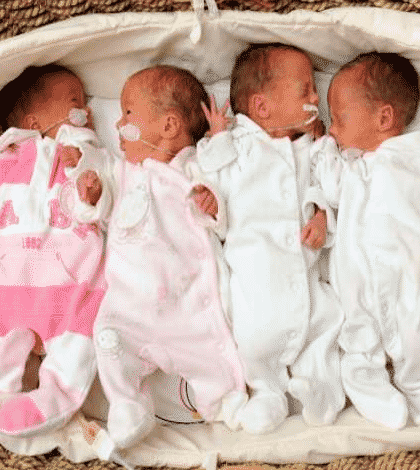 My thoughts on this article is that this may be a challenge for the couple. With raising 4 children at the same, along with being at the same ages along with another 2 year old can be difficult. But I wish this couple a happy long life.
My next step in learning is to research more about this women. Find more in her personal thoughts and emotions! But to the sounds of it they really wanted a girl but instead they were blessed with a lot more (4 Boys), but with the 2 year old adds in 5 boys to raise and take care off.
What are your personal thoughts on this article?
Please leave a comment down below and I look forward in seeing, viewing, and also reading your feedback in the future!
Many Thanks...